Stockport Plasterer: Plastering Project Case Studies
The purpose of this section of the Stockport Plastering web site is to showcase to visitors the range and type of plastering, building maintenance, building repair and small building alteration projects that can be undertaken by John Oldham.
Obviously with over 32 years of experience, this is only a very small selection of the jobs that John has done. These Case Studies focus on the most recently completed and ongoing jobs carried out and the intention is to expand this section of the site over time.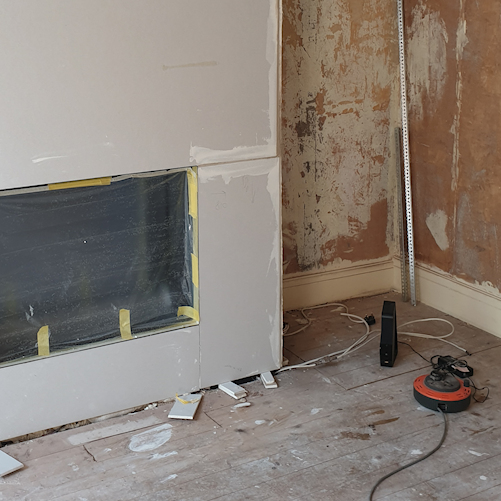 This was a job for Lindsay and David Howard in Marple. In some areas the original plaster was so loose it had to be removed completely back to brick, then plasterboard was applied using dot and dab method then skimmed. The other walls where the plaster was stable, I applied a prep coat of plasterer's pregrit, which has to be applied the day before plaster. I now use this product rather than pva as it's more reliable and gives a rough durable prep coat prior to plastering. After the pregrit prep had set I reskimmed with multi finish. As you can see, the walls look great after the client's very good decorating.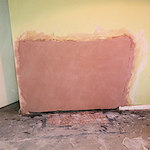 This job was to remove an old concrete fireplace in a ground floor apartment in Alderley Edge and make good the plaster. After removing the fireplace I blocked the opening using timber and plasterboard, then I gave it a first coat of bonding plaster followed by a skim coat finish. I recommend that an air vent is fitted to keep an air flow up the chimney flue but in this instance the client chose not to have this.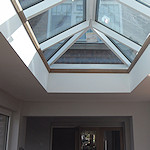 Perennial Windows created this lovely orangery sun room with a lantern glass ceiling in Offerton, Stockport. My job was to insulate the ceiling and all steelwork with a solid K-Span insulation board, then plasterboard and skim. All walls were also plasterboarded with the dot 'n' dab method and then plaster skimmed. The plasterering to existing dining room walls and ceiling were also made good.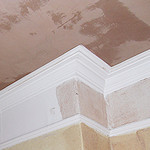 Overboarding and replastering of a bedroom and lounge ceiling in a property on Longhurst Lane, Mellor. Both ceilings were badly cracked and taking down the old ceilings was an option. However, due to an ornate Edwardian plaster corniche in situ, both the customer and I were very concerned that this could be damaged and possibly collapse. The solution was to overboard the ceiling with new plasterboard and use a stop-bead to create a neat edge up against the corniche without compromising its integrity. This made it a straight foreward job to finish with a smooth plaster skim without any damage to the historic corniche feature.