Traditional Stockport Plasterer specialising in domestic plastering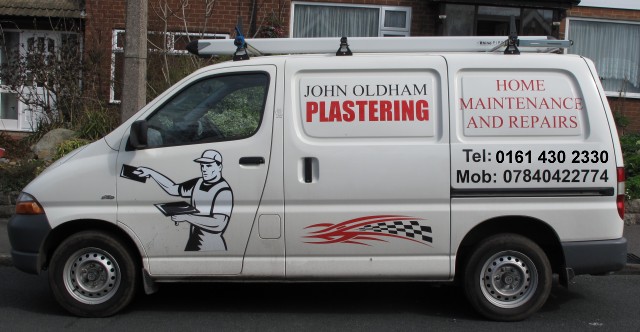 John Oldham is a time-served plasterer working out of Bredbury in Stockport.
With over 32 years of experience plastering in the Marple, Mellor, Romiley, Bredbury, Woodley and Offerton areas of Stockport, John has a well established reputation as a great plasterer with much of his work coming via satisfied customer recommendations.
Following a spell living in Buxworth, John has also developed a great reputation as a plasterer in the High Peak areas of Buxworth, New Mills, Chinley, Chapel-en-le-Frith, Furness Vale and Whaley Bridge.
After relocating back to Bredbury in 2016 John would like to focus on plastering work closer to home in Stockport and the nearby areas of Gee Cross or Hyde but is happy to continue working in the High Peaks too.
Honest, trustworthy, experienced, competitive, clean and tidy plasterer
John specialises in large and small domestic plasterering jobs and, unlike many plasterers, is very experienced at working in domestic situations where cleanliness is of great importance to the client. He is also covered by public liability insurance for up to £2M!
As well as being a great plasterer who will give your rooms a fantastic finish, John has built a reputation for being honest and trustworthy too. As you can see from his testimonials, customers are often happy to leave John with the keys while they are at work. He is also very competitive, particularly on those smaller jobs that many plasterers aren't interested in.
Home maintenance and building repairs in Stockport and High Peak
John is also happy to tackle studwork, small building alterations, maintenance and building repairs in your home too.
Free Quotations for all Domestic Plastering Jobs in Stockport and High Peak
For a free competitive quote and to meet John and decide if he's the plasterer for you call one of the numbers below or get in touch via the Free Plastering Quote and Enquiries page. John is not one of those tradesmen who never call back - he'll tell you if he's too busy!
Tel: 0161 430 2330 Mob: 07840 422 774
Here's John's most recent testimonial. Visit the Plastering Testimonials page for more.
Plaster reskimming of two bedrooms in an Offerton Fold property which had the wallpaper removed by a steamer. Using steam sometimes pulls off patches of original plaster skim, which in this case had happened in various patches. Prior to reskimming I patched several electrical chases where new cables and light fittings had been installed. All-in-all a straightforward plastering job for me but for the client it involved a lot of moving around of bedroom furniture. Thankfully, as you can see from the testimonal, we worked well together.
The high standard achieved will show when the walls are painted!

Thanks John for the excellent plastering work on two bedrooms and fill-in work after electrical installations. The high standard achieved will show when the walls are painted.


Peter Warburton, Offerton Fold, Stockport: March 2017